With the US Food and Drug Administration (FDA) allowing the import of potential evil chicken and Cay Thi porridge to the United States from October 2018, Anh Kim will try to increase export these products to this market.
The above information has just been given by the leader of Anh Kim Food Production Joint Stock Company (Anh Kim Foods), the owner of Cay Thi brand, at the awarding ceremony to recognize the oldest nutrition porridge brand in Vietnam. by the International Intellectual Property Institute awarded.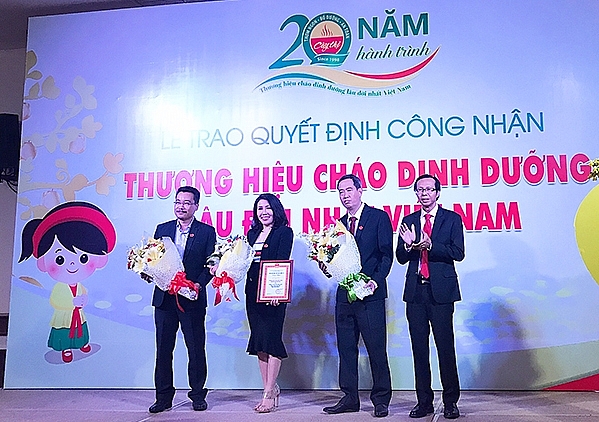 Representative of Mr. Kim Foods received the oldest certificate of nutrition porridge in Vietnam
In the 90s of last century, the desire to start a business of the founders of Cay Thi brand is to bring delicious, nutritious porridge to children, sharing the work-family burden for the mother at that time. The convenience and quickness from the Cay Thi nutrition porridge has become an effective aid, helping families raising children to save time and effort amid the hustle and bustle of urban life.
The first reaping of nutritious porridge Cay Thi has contributed strength to help other nutrition brands in turn start up, forming a picture of the nutritional porridge business in particular and nutritional foods in general. dynamic – bustle in the past decade.
Ms. Nguyen Thi Thu – General Director of Anh Kim Foods – said that the production of clean food did not stop in the domestic market.In October 2018, we were allowed to import into the United States by the FDA in October 2018. Potentially evil chicken products and packed fresh porridge. This is a breakthrough of Anh Kim Foods and a motivation for the company to strive to promote these products in the US market in the future. Outside of the United States, the company is moving toward producing better, better quality products for export to other markets.
Source: https://congthuong.vn/